Topic: Professional development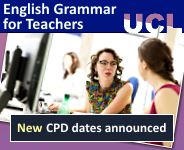 Background material for teachers on an array of topics in English language and linguistics. These resources are designed to help teachers feel more confident in their knowledge of the English language, and more adept at leading Englicious lessons, starters, and projects in class.

Want to know more? Or would you like to ask all your questions in a face-to-face session? The Englicious team offers full-day CPD courses entitled English Grammar for Teachers and Teaching English Grammar in Context, in conjunction with the UCL Institute of Education and UCL Life Learning. Forthcoming session dates can be found on the IoE and UCL Life Learning websites.
»
Englicious contains many resources for English language in schools, but the vast majority of them require you to register and log in first. For more information, see What is Englicious?